Email Sign Up
I would like to receive updates, special offers, program communications and other information from Petco.
Petco Positive Dog Training
Petco Positive Dog Training

Petco Positive Dog Training
Build a lifetime bond with your dog through fun and positive classes.
Proper training is essential for a long, happy and safe relationship with your dog, setting the foundation to ensure your dog stays physically fit, mentally alert, socially engaged and emotionally happy. To make dog training an enjoyable and fulfilling activity, our approach is positive, rewards-based, fun and effective.
More About Petco Positive Dog Training
At Petco, we encourage pet parents take a positive approach to make dog training an enjoyable, fulfilling activity. By nurturing bonds with dogs through positive reinforcement, the training process becomes easier for everyone involved.
Petco Positive Dog Training
Offers fun, educational classes in a safe setting
Teaches pet parents how dogs think, learn and communicate
Provide advice on how to encourage and reward polite dog manners in real-world situations
Promotes a relationship of mutual respect and trust
Our Professional Dog Trainers undergo an intense 16-week training program that is updated yearly with the most cutting-edge methods, ideas and principles. Classes utilize proven, science-based training principles based on research conducted by internationally renowned psychologist and behaviorist, B.F. Skinner.
To help dogs retain positive behaviors, our classes keep a dog's mind engaged and in a constant state of learning while our trainers closely observe how dogs are responding to their pet parents to optimize training. This includes:
Dog-friendly communication – rewarding good and ignoring inappropriate behavior
Instruction – guidance from our professional dog trainers on how to teach a behavior and cater to a dog's specific needs
Enrichment – keeping a dog's mind engaged by encouraging dog to identify what behavior is being rewarded
Environmental Management – setting dogs up for success in any situation
Compassion – strengthening the bond between pet and pet parents
Training and classes are for dogs only. Current vaccinations required. Available in select locations. Class selection may vary by location.
Find the best fit for you and your dog.
Learn more about the programs we offer.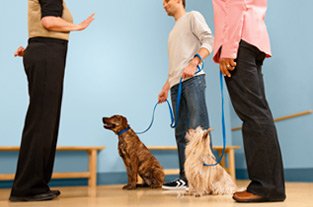 Group Classes
We offer group classes for dogs of all ages where you and your dog can learn valuable lessons while socializing with other dogs and people in a fun group setting.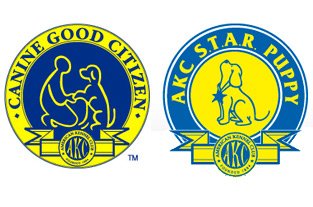 AKC Canine Good Citizen Certification
Prepare for the AKC Canine Good Citizen certification, a widely-recognized high standard of polite behavior and excellent preparation for therapy dog training. We also offer the AKC S.T.A.R. Puppy test.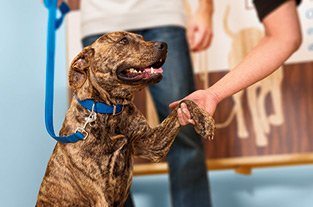 Seminars & Workshops
We provide workshops and free 30-minute seminars that are positive, fun and informative.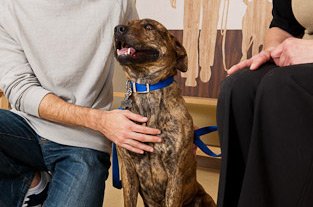 Private Lessons
Looking for customized training solutions and one-on-one instruction? Private lessons can be tailored to you and your dog's needs.
find a store
Bringing your new puppy home
Learn more about our trainers
More About Our Trainers
Petco Dog Trainers undergo an intense 16-week training program which includes 12 weeks of hands-on training in actual dog training classes. The Petco Dog Training Class Curricula and Petco Dog Training Apprentice Program were created by Fanna Easter, reviewed by an independent Board Certified Veterinarian Behaviorist and are updated annually so Petco Dog Trainers learn the most updated training methods, ideas and training principles. Easter is a Certified Pet Dog Trainer (CPDT- KA), graduate of Karen Pryor Academy (KPA CTP), Associate Certified Dog Behavior Consultant (ACDBC) and graduate of Purdue DOGS course.
Key attributes of the program:
Strong focus on learning and interpreting dog's body language to set a dog up to succeed.
Encourages positive reinforcement for pet parents.
Uses positive reinforcement training based on learning theory.
Learn the Basics
Other common training topics
Other Common Training Topics
Loose Leash Walking
Loose leash walking is a common training challenge for many pet parents; however, it is fairly simple to teach. If your dog pulls, stop walking. When your dog stops pulling, walk forward. This is just like a game of "Red Light, Green Light." Dogs can be rewarded with treats when they do not pull. Treats can be viewed as your dog's paycheck.
Safely Approaching and Interacting with Dogs
The first thing people need to understand is how to properly greet a dog. To approach a dog walking on a leash with their pet parent, Petco Certified Dog Trainers recommend that people follow the "SAFE" method:
S – Stop, stand still, and turn sideways before getting close to the dog.
A – Ask the pet parent for permission to pet the dog first.
F – Fist, offer a closed fist for the dog to sniff while standing still. Allow the dog to approach you. If the dog is friendly, pet the dog under its chin.
E – Exit slowly away from the dog by backing up, then walking away.
To avoid startling a dog, people should not run up to any unfamiliar dog or pet the animal on the top of the head or face. Using the "SAFE" method ensures that a dog has a moment to meet a person and approach them if they feel comfortable.
If an unaccompanied dog approaches a person, they should "make like a tree" by standing as still as possible, keeping their hands by their sides or behind them, looking down at the ground and staying quiet. Dogs will most likely lose interest and walk away, but a person should stay in this position until they can no longer see the dog. It's important to never try to pet a dog that is running loose without a pet parent nearby.
Potty Training Tips
Loose Leash Walking Tips
Because pet safety is our first priority, we require all pets being socialized in our dog training classes be current on their vaccinations. All required vaccinations must be administered at least 24 hours prior to your pets appointment. Vaccination requirements vary by state & city, please contact your local petco for details.
Dog Training Offer Terms and Conditions
Offer valid 7/23-8/19/17 for purchases in-store. Pals membership required. Fulfillment of offer earns bonus points equal to 40 Reward Dollars (in addition to regular points earned under the Pals Rewards program). Offer valid once per customer. Points underlying Reward Dollars will be added to your Pals Rewards account ON 9/11/17, and notification of issuance of Reward Dollars earned (in increments of 5 Reward Dollars) will be sent via email within 5 business days thereafter. If any item purchased under the offer is returned, all bonus points from the offer (and regular points from such purchase) will be deducted from your Pals Rewards account (which may result in a negative points balance).
find a store